Instructors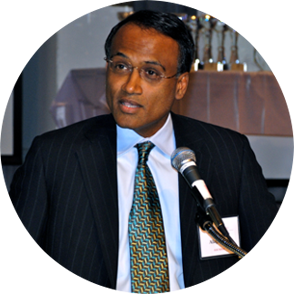 Arun Alagappan
President and Founder, Advantage Testing
Arun Alagappan is a graduate of Harvard Law School and a magna cum laude, Phi Beta Kappa graduate of Princeton University. In law school, Arun served on the Board of Editors of the Harvard International Law Journal and volunteered at numerous public service organizations. Later, Arun worked briefly at the law firm of Sullivan & Cromwell in New York City and then for a year as a Federal Law Clerk to The Honorable Judge Nelson of The United States Court of Appeals for the Ninth Circuit.
Arun has prepared thousands of students for tests such as the SAT, SAT Subject Tests, LSAT, GMAT, GRE and MCAT; he also taught in the Mathematics Department of Harvard College and at a learning disabilities center in New York City. At Harvard, the Dean of the College awarded Arun a Certificate of Distinction for Outstanding Teaching of Harvard Undergraduates.
In 1986, Arun founded Advantage Testing, Inc. and has served as its President since. He serves on the Boards of Trustees of the public service groups LEDA and Prep for Prep and is Founder and President of the Advantage Testing Foundation.
Hector Ramos
LSAT INSTRUCTOR, ADVANTAGE TESTING
Hector Ramos received his J.D. from Harvard Law School. He is a magna cum laude graduate of California State University, where he triple majored in Philosophy, Political Science, and Psychology. He formerly served as Chief Counsel for the Office of the Vice Mayor of Cambridge and as Legal Counsel at the Criminal Justice Institute in Cambridge, MA. He was also an associate at a venture capital firm in Boston. At Harvard, he was the Co-Chair of the Latino Law, Policy, and Business Conference. Hector has volunteered as a coach and tutor for Boys and Girls Club and spoken at various forums, including Princeton University, Harvard Business School, and the Supreme Court of the United States. He was a recipient of the Horatio Alger Association National Scholarship, the UCLA Law Fellow Award, and New York Model UN Distinguished Delegation Award.
Jay Stull
LSAT INSTRUCTOR, ADVANTAGE TESTING
Jay Stull is a summa cum laude and Phi Beta Kappa graduate of Bowdoin College.  He received his A.B. in Government with a minor in English Literature.  Jay is the recipient of the Michael Francis Micciche III Memorial Award and of the Philip Henry Brown First Prize in Extamporaneous Composition.  Jay studied at Stanford Law School, where he received the Hilmer Oehlmann Jr. Award for brief and oral argument.  He previously served as an analyst for the U.S. Department of Justice's International Development Programs in Asia.  Jay has prepared more than 1,000 students for the LSAT.